家で楽しむマウリッツハイス美術館ヴァーチャルツアー
マウリッツハイス美術館HP
(ホームページは多言語に対応していて、ちゃんと日本語もあります。)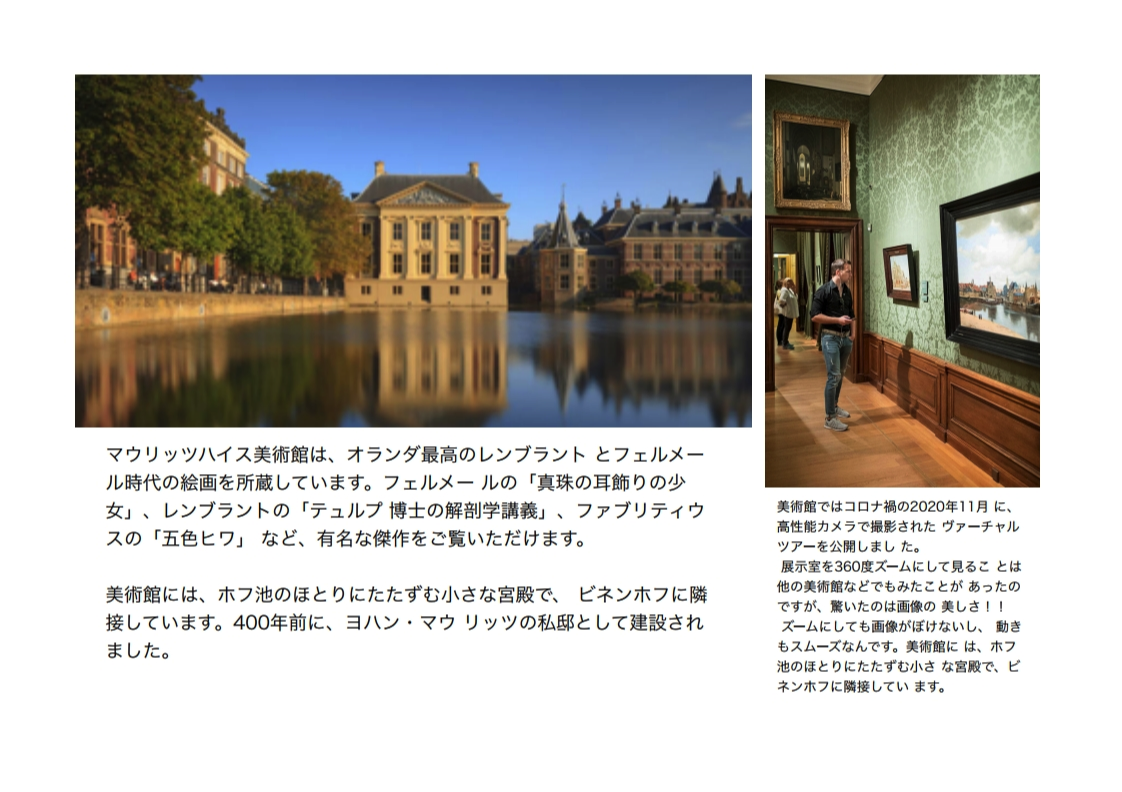 6. Rogier van Heyden
• The Lamentation of Christ (1460)
This webpage uses the free demo version of AudioPlayer v2.1.3
This webpage uses the free demo version of AudioPlayer v2.1.3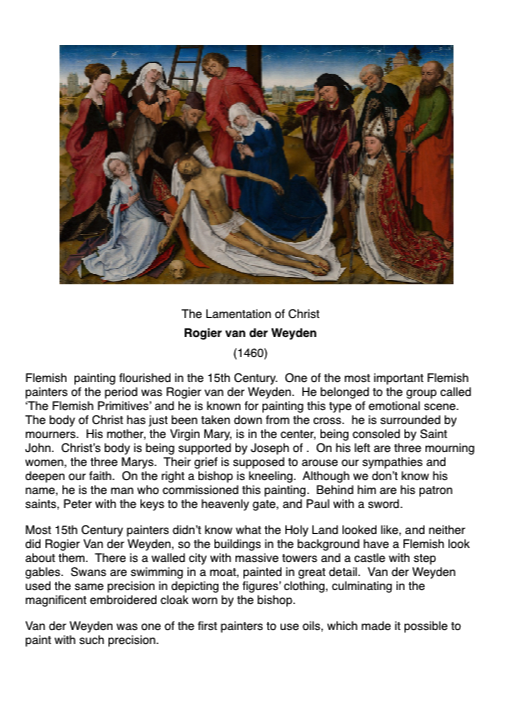 5. Rembrandt van Rijn Brugel
• Self-Portrait (1669)
This webpage uses the free demo version of AudioPlayer v2.1.3
This webpage uses the free demo version of AudioPlayer v2.1.3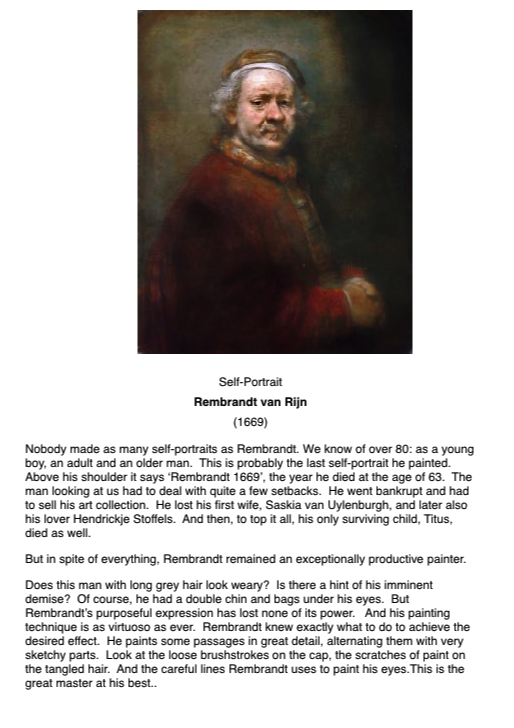 4. Jan Brugel
• The Garden Of Eden And The Fall Of Man (1615)
This webpage uses the free demo version of AudioPlayer v2.1.3
This webpage uses the free demo version of AudioPlayer v2.1.3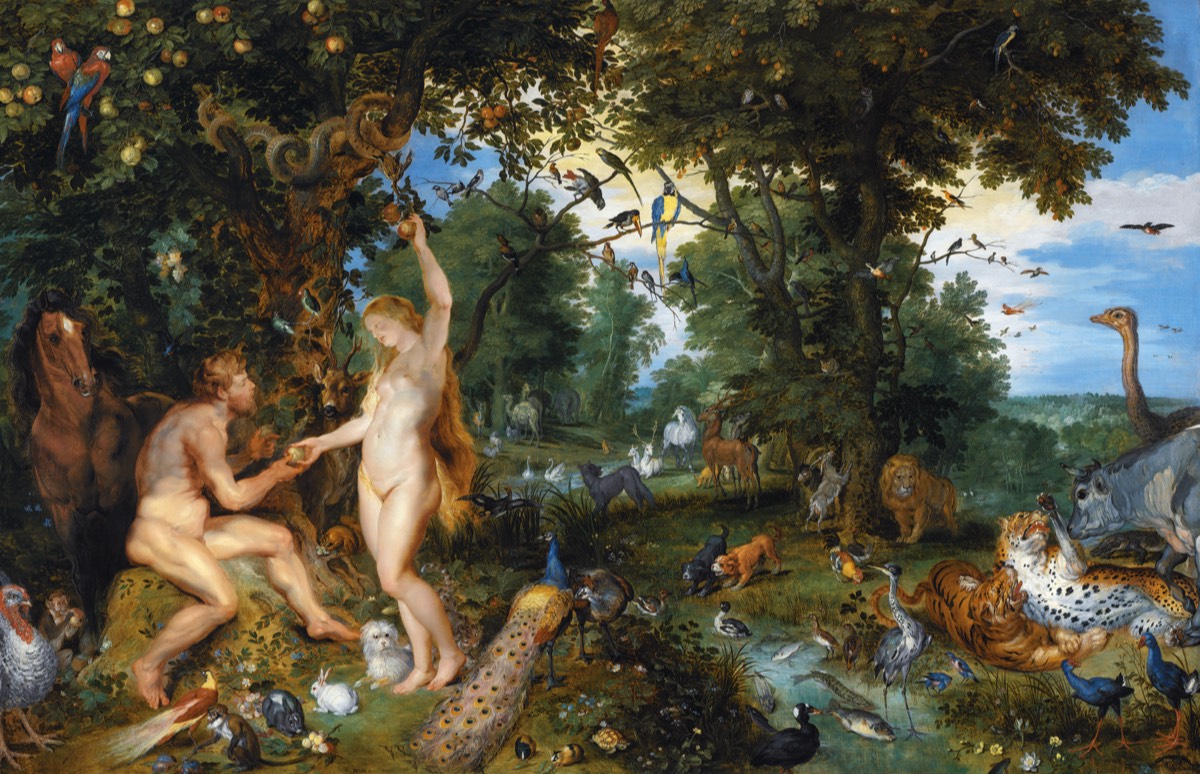 This skillfully painted landscape is filled with animals. They are all living together in harmony as this is the Garden of Eden. But there is something ominous in the air. On the left Eve is taking an apple from the serpent and giving one to Adam. But God has forbidden them to eat from this Tree of Knowledge and for this disobedience God expelled them from the Garden of Eden.
This painting is by two famous Flemish artists who were also friends: Rubens and Brueghel. They made several versions of this type of painting, which were intended as showpieces that combined the best of both artists.
Although Brueghel was responsible for the whole composition, Rubens started the painting with broad brusgstrokes and in thin paint, he painted Adam and Eve, the tree, the horse and the serpent. Then Brueghel took on the plants and animals, which he painted with such finesse in finishing paint. Brueghel was later given the nickname "velvet" Brueghel because of this refined technique.

3. Hendrick Avercamp
• Ice Scene (1610)
This webpage uses the free demo version of AudioPlayer v2.1.3
This webpage uses the free demo version of AudioPlayer v2.1.3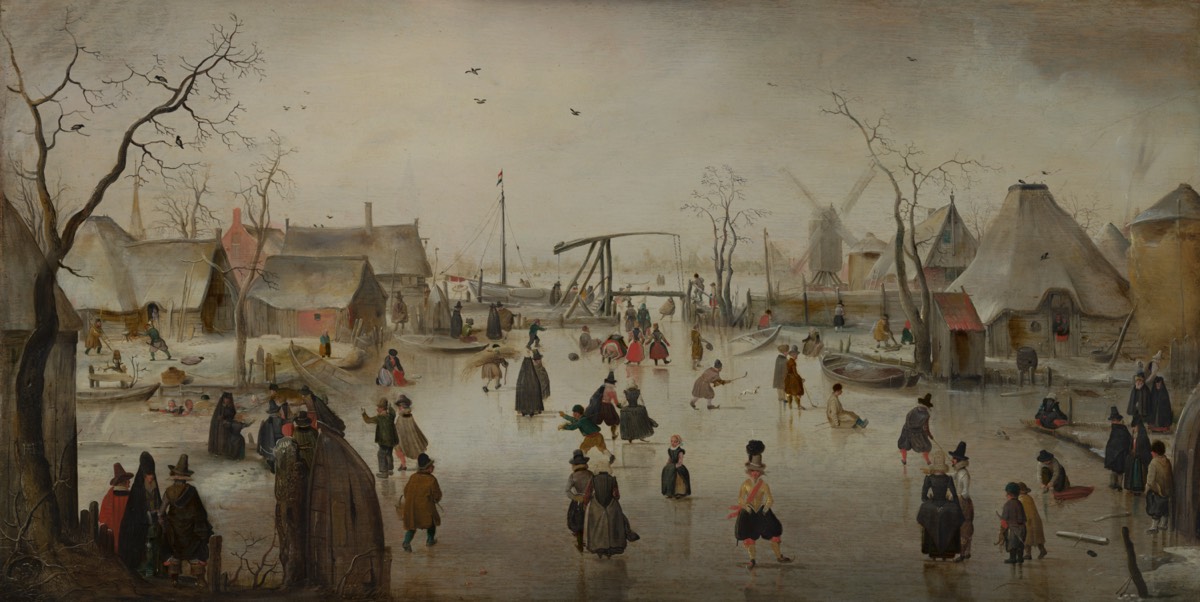 This is a typically Dutch scene: everybody is out on the ice after a couple of days of hard frost. You see a frozen village canal edged with farms, windmills and a haystack. In the distance, behind the lift bridge, you can just make out a town, despite the mist. It's busy on the ice. Everybody is enjoying themselves, young and old, rich and poor. People are skating, sledging and playing a game called 'kolf', a forerunner of today's ice hockey. But winter time is not all fun and games. Work goes on as well. On the left, a woman is doing the washing in an ice hole. The water must be freezing cold. A little further on, an old man is carrying an enormous bale of straw. And the winter brings dangers too. On the far left, a couple of people have fallen through the ice, but someone is already running up with a ladder to save them. And just in front of the bridge, some people have slipped over. The woman has fallen in such an unfortunate position that you can see her bare bottom.
This icy scene filled with stories is by Hendrick Avercamp, a deaf painter from the city of Kampen. Despite his handicap, he trained as a painter and was the first Dutch painter to specialise in winter landscapes, with great success.
2. Anthony Van Dyck
• Portrait of Peeter Stevens (1626)
This webpage uses the free demo version of AudioPlayer v2.1.3
This webpage uses the free demo version of AudioPlayer v2.1.3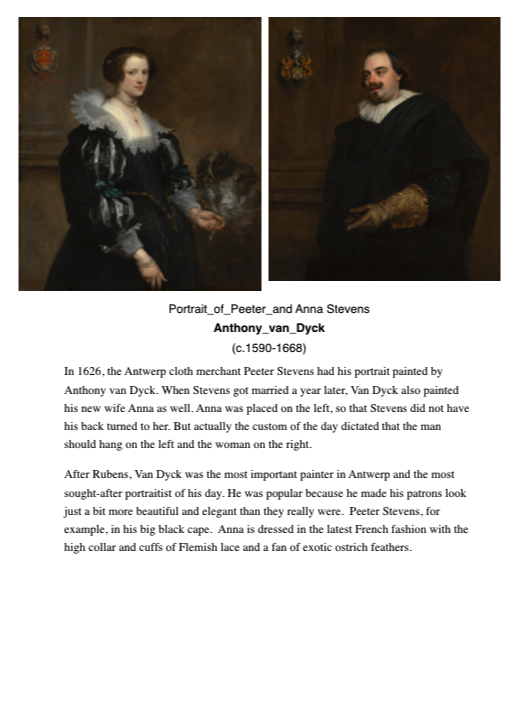 1. Vermeer
• Girl with a Pearl Earring (1665)
This webpage uses the free demo version of AudioPlayer v2.1.3
This webpage uses the free demo version of AudioPlayer v2.1.3