家で楽しむマウリッツハイス美術館ヴァーチャルツアー
マウリッツハイス美術館HP
(ホームページは多言語に対応していて、ちゃんと日本語もあります。)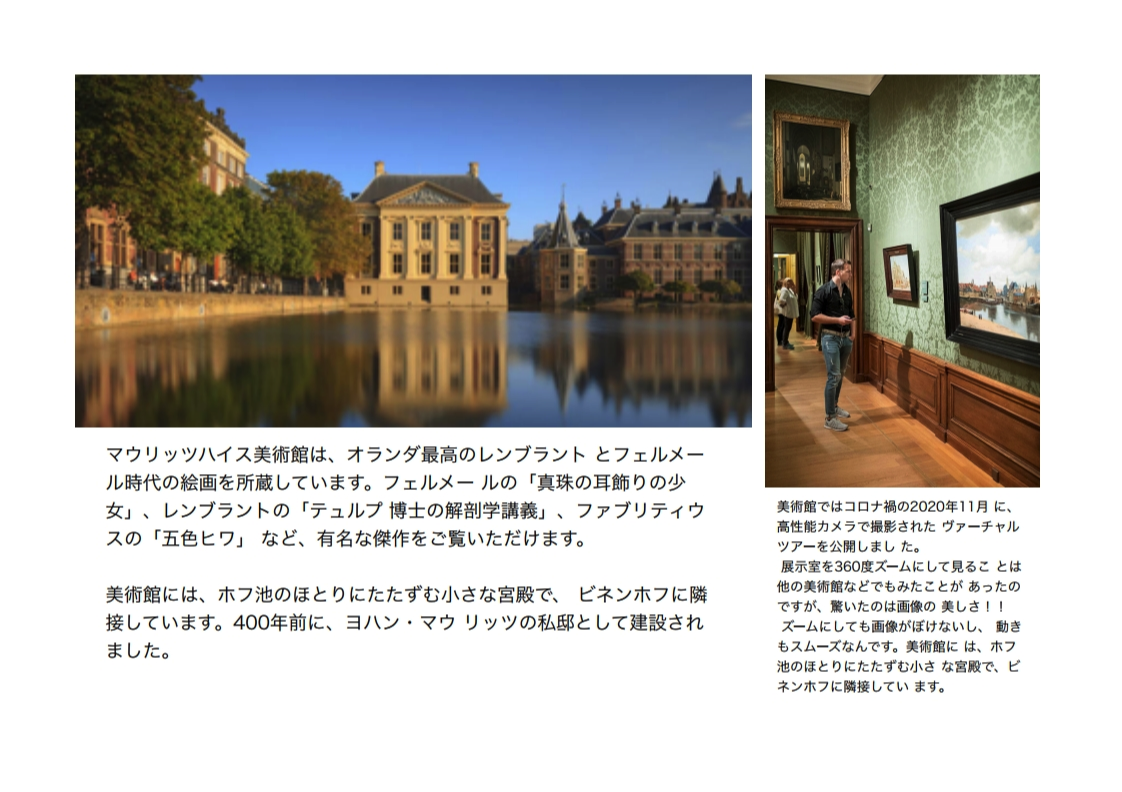 10. Dirck De Bray • Still Life(1674)
This webpage uses the free demo version of AudioPlayer v2.1.3
This webpage uses the free demo version of AudioPlayer v2.1.3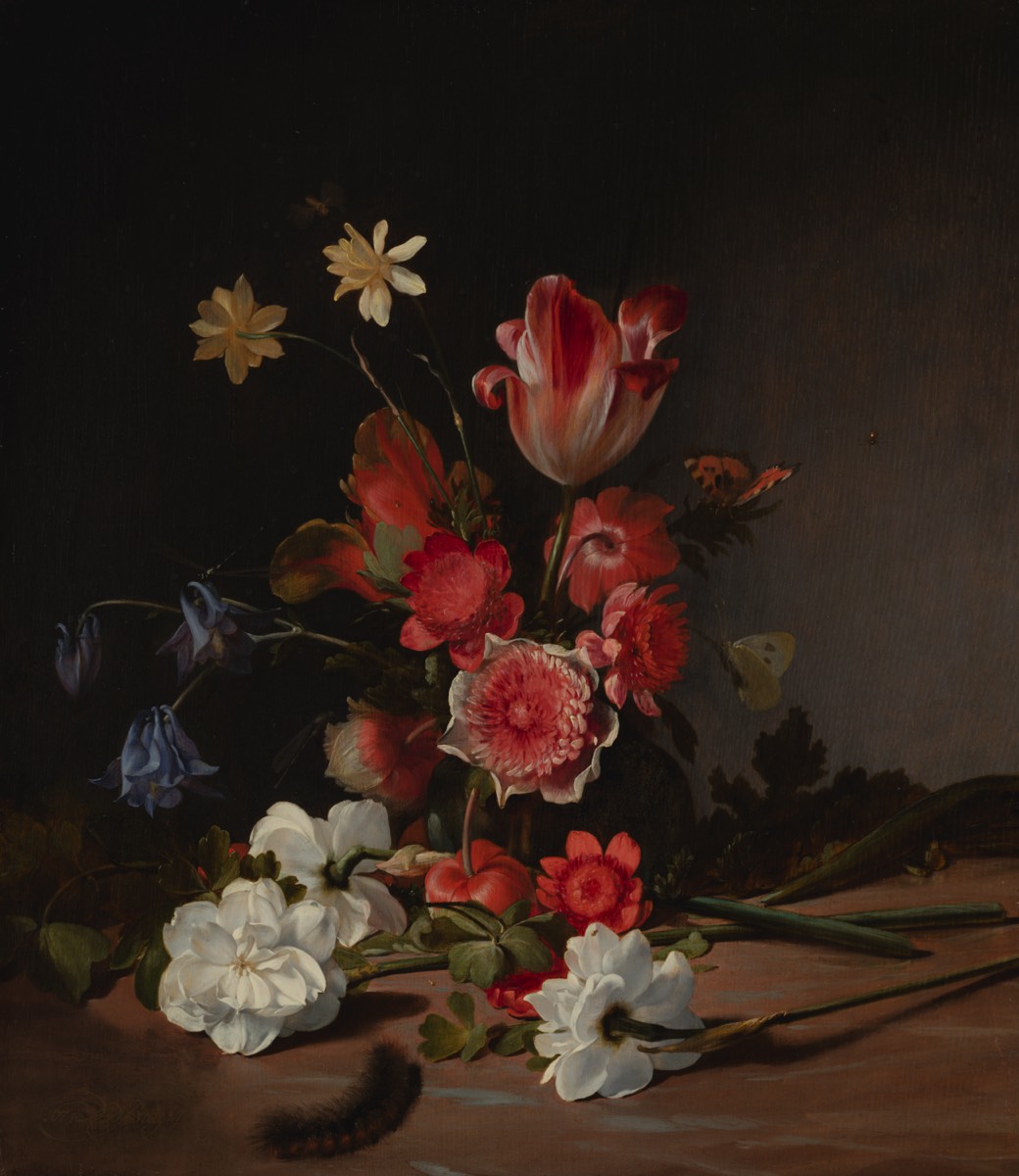 This flower still-life is remarkably informal. Usually painters in the 17th Century painted imaginary bouquets with flowers that were carefully arranged. But de Bray chose something different from that: the vase is only half full, and some of the flowers are still lying on the table. This makes the painting look like a snapshot as if the painter has left the room. It is also unusual that all the flowers depicted are from the same season: red anemones, striped tulips, narcissi and blue columbines all flower in the springtime. This makes it a rarity among Dutch 17th Century still-lifes which usually show flowers from different seasons..
Dirck de Bray came from a prominent Haarlem family of artists. Although he did not paint many works, this still-life shows that he was a very skilled painter. Just look at the brightly-lit shadows around the white narcissi in the foreground.
9. Johannes Vermeer • View Of Delft (1660)
This webpage uses the free demo version of AudioPlayer v2.1.3
This webpage uses the free demo version of AudioPlayer v2.1.3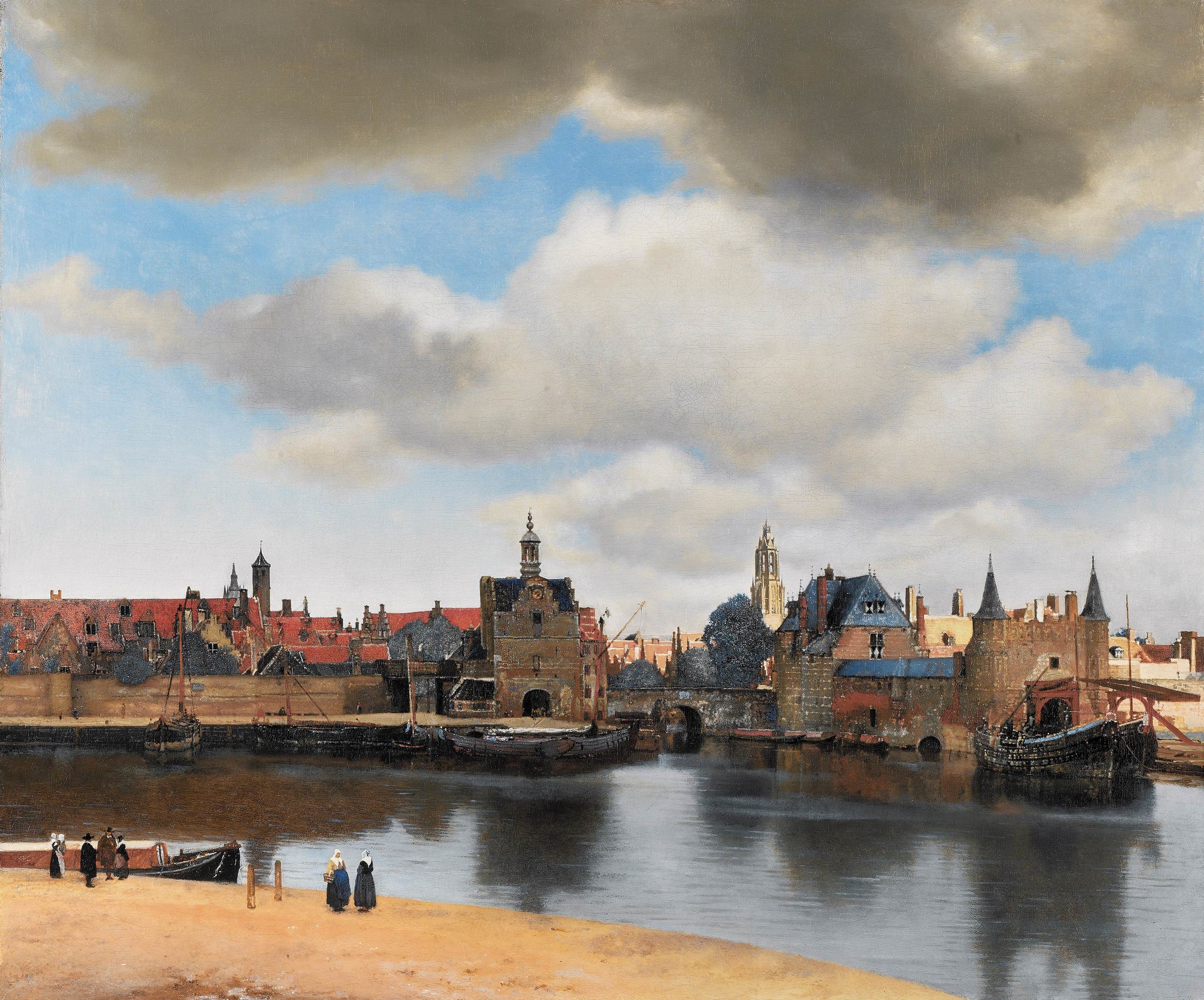 This is the 'View Of Delft', the most famous cityscape of the Dutch Golden Age. Vermeer usually depicted indoor scenes. This is one of only 2 cityscapes by his hand. We are standing on the banks of the River and are looking from the south-east to Vermeer's home town. It is the morning in spring or early summer and, judging by the reflection on the surface of the water, there is hardly a breath of wind. A dark cloud casts a shadow on the quayside, the city walls and the buildings. This way, Vermeer directs our gaze from the shadows, over the bridge between the city gates and through to the sun-drenched city center with its shining rooftops and the slender tower of New Church. Vermeer had a virtuoso lighting technique. He could suggest practically any lighting effect in paint and was always looking for the best way to represent textures. The 'View Of Delft' demonstrates clearly how he did this. By painting some parts very precisely and others quite loosely. Sometimes the paint layer is thick, like on the church tower, but in other places it is very thick and almost transparent, like in the reflections on the water, where Vermeer used very thin layers of brown and bluish-grey. In order to suggest the rough masonry of the gate, however, he mixed coarser grains of pigment into his paint. And then there are the dots of paint indicating the reflections of light, on the right of the boat, for example. These dots are Vermeer's trademark. Vermeer's technique has been admired for centuries. In 1885, after a visit to the Mauritshuis, Vincent van Gogh wrote: " when you look at his cityscape from close up, it is incredible and done with very different colors to the ones you might assume from a couple of steps away".
8. Peter Paul Rubens
• Old Woman And Boy With Candles (1616-1617)
This webpage uses the free demo version of AudioPlayer v2.1.3
This webpage uses the free demo version of AudioPlayer v2.1.3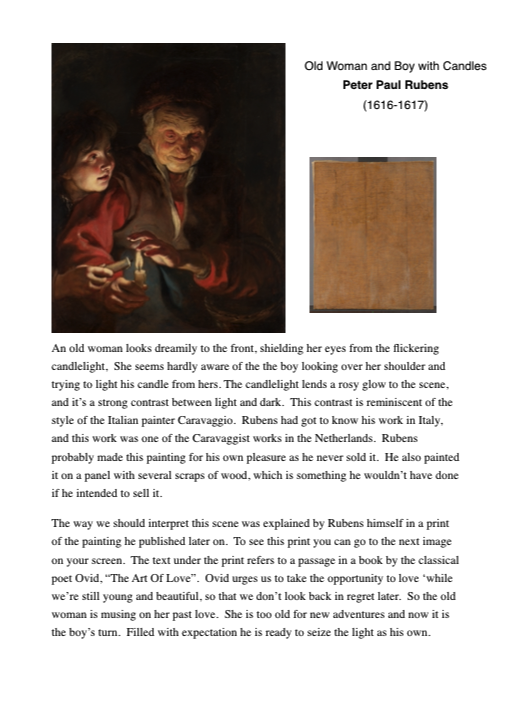 7. Jan Steen
• Girl Eating Oysters (1688)
This webpage uses the free demo version of AudioPlayer v2.1.3
This webpage uses the free demo version of AudioPlayer v2.1.3